Paula (25), from Spain, in Brussels since 2019
"When I arrived here for an internship, I only knew Brussels from a tourist perspective and didn't know what to expect. I saw Brussels as a very dirty, dangerous, small city since I only knew the city centre. By living here, I see it has so many things to offer. After two years my view has changed completely; I've discovered the secret places, the hidden gems. The longer I live here, the more I like it – especially since I made lots of international and local friends. 
The restaurants are amazing, the nightlife and the events are endless. There are so many network opportunities, which make finding a job easier. You will always find a job here; even if it's not the job of your dreams, it's a way to get started.  
You do have to make an effort to meet Belgians, but making friends in the expat community is easy. Meeting people is easy; everyone is in the same position. We're all in a different city, in a different country. We all want to meet people and have some support."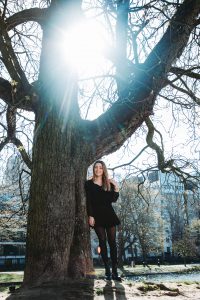 "People ask me why I want to live here, coming from Spain. Yes, it's a very nice country in terms of weather and food, but taking everything into account, Belgium has more positive sides than Spain – at this moment, for me. Professionally it's better, I'm growing more as a person than I would in Spain. In Spain, I would not find as good a job as the one I have now, especially not at my age. Here is where I have to be at the moment. 
I'm improving my Dutch because I want to be able to express myself. I have friends here and my partner lives here. Belgium is a very welcoming, open-minded country, although I have to admit that I only know Flemish people, as I don't speak French. 
Brussels can feel cold at times, if you're new, away from home, when the weather is dark. But overall, it's a very nice place. You need to know where to go, who to talk to and find your way, but there are nice opportunities for everyone." 
Pictured Paula
Photographer Cem Ali Bas
Location Parc Léopold