Poorni (32), from India, in Brussels since 2019
"I remember video calling my mother and father in the first week we arrived here, to show them the bus and tram in our street. I was so enthusiastic about the public transport! Easy, safe, cheap. My MoBIB card has become my best friend. But the best experience by far was seeing snow for the first time. We drove to Saint Hubert and played for hours. My four-year-old son loved it so much, he made a mini snowman.
I love this place. I marvel at the diversity of historic architecture all around. Last summer we visited Bruges and I took a picture of every single building. But it's the same in Brussels –  every time I see Grand Place, it feels like the first time. The grandness and beauty overwhelm me, even more during Christmas time.
My son was 2,5 years old when we arrived. In the beginning it was hard taking care of everything by myself, it took some time to get used to. When he was born, I had help from my mother in India, but here I'm on my own. He's growing up fast – soon he will start going to school. 
Between being pregnant, giving birth, moving to Europe and taking care of my son, the years passed quickly. At the moment, raising my son fills most of my days. Whatever time I have left, I spend on making vlogs for my YouTube channel. It started out as a beauty channel, but since moving here I'm focus more on the daily life as an expat. My family and friends in India love seeing what we do here. I just show daily life, because even going to the supermarket is a completely different experience than what we're used to."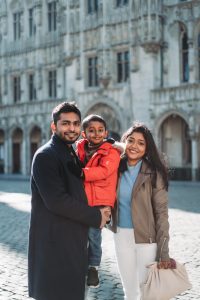 "Although language is a barrier for us, I greatly respect and admire the importance that is placed on it. The government only communicates in the official languages, not in English. I observe this coming from a country with many different regional languages. In India, it's the other way around – regional languages are less valued and speaking English is considered a sign of education. I prefer it the Belgian way.
Evere is a great place to live. It feels like a cosy village, with grocery shops and schools within walking distance. I'll be honest: I also like that it has a large Indian community – it makes me feel less alone. We made new friends and are surrounded by people we know. 
During wintertime, we just cuddled up in bed during the weekend. Now it feels like we're slowly coming out of hibernation. I cannot wait to continue exploring this place with my family now the weather is improving. I'm looking forward to summer!"
Pictured Poorni
Photographer Cem Ali Bas
Location La Brouette