Zia (30), from Pakistan, in Brussels since 2016
"After my studies in Italy, I moved to Brussels for love – and fell in love with this city. I like other cities and countries as well, but this is by far my favourite place. I don't know why. Maybe because I spent so much time here.
Since I was a child, I've always loved photography. Back then I didn't have the money to buy a professional camera – but three years ago I did and I started practicing a lot. My specialty is newborns and maternity shoots, sometimes I also do weddings. 
I remember my very first professional shoot, it was with a Turkish couple. Through my lens, I could see the overwhelming love of the mother for her baby. The couple was so happy with the results and that's what gives me satisfaction in my profession."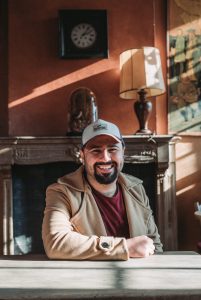 "But it's not always like that. Sometimes it takes so long to calm a crying baby that the light has completely changed from daylight to nighttime and I have to do a new setup. It's difficult for me and frustrating for parents. It's not easy, you have to be patient. But for me, it still is the perfect job.
On the weekends I go outside. Because of travel restrictions lately, I've started to discover local places. In the meantime, I've visited almost every city in Belgium. I do hope travel restrictions will be lifted soon though, it's been one and a half years since I last visited my family in Pakistan."
Pictured Zia
Photographer Cem Ali Bas
Location La Brouette